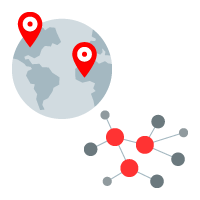 The core spatial features in Oracle Spatial and Graph have been included in Oracle Database Locator feature for over a decade. Now, all Oracle Spatial capabilities are available with both Enterprise Edition and Standard Edition 2. According to the announcement, all Spatial features are included.
https://blogs.oracle.com/oraclespatial/spatial-now-free-with-all-editions-of-oracle-database
Previous to this announcement, Spatial and Graph was a paid for option of Oracle Database Enterprise Edition, $350 per Named User Plus, and $17,500 per Processor license.
Oracle Spatial is an extension to the Oracle DBMS that adds a spatial type and spatial query functions to Oracle. It is offered by Oracle using two primary options.
Oracle Spatial was an optional feature of the Oracle Database Enterprise Edition. In addition to providing the SDO_Geometry type, Oracle Spatial provides a number of additional geospatial capabilities.
Oracle Locator provides a subset of Oracle Spatial capabilities. It was included as a standard feature of Oracle Database Standard and Enterprise Editions. Among other capabilities, it provides the Oracle Spatial geometry type (referred to as SDO_Geometry) and a SQL API.
As of December 5, 2019, all Spatial and Graph features of Oracle Database as well as Oracle Machine Learning (formerly known as Advanced Analytics), may be used for development and deployment purposes with all on-prem Database editions and Oracle Cloud Database Services. This news is also reinforced by the Oracle Database Licensing Information Manual.
The latest copy of the Oracle Licensing Information User Manual indicates that Machine Learning as well as Spatial and Graph is included with all Database editions without any prerequisites (beyond Oracle Database) and does not state that it requires an extra cost. The latest Oracle Pricelist (December 5th, 2019) no longer has Spatial and Graph listed as a purchasable Database option.
Oracle Spatial and Graph includes high performance, enterprise-scale, commercial spatial and graph database and analytics for Oracle Database 18c, in the cloud and on premises.  It supports enterprise business, business intelligence, large-scale Geographic Information Systems, and location services applications.  A general-purpose property graph database and analytic features support applications for social networks, Internet of Things, fraud detection, and recommendation systems.  A special-purpose RDF graph database supports linked data applications.
Spatial features now available for development and deployment with Oracle Database includes:
2D and 3D geometry data types to represent locations, regions, and other geometries
All spatial functions and operators
Map authoring tools
Sensor and imagery data support with Point Cloud, LiDAR and GeoRaster data types and operators
Networks and parcel data management with Linear Referencing, Network and Topology data models
Geocoder, Routing Server, Tracking Server, Map Server
Open Geospatial Consortium web service APIs
Spatial Studio, a self-service, no-code/low-code map canvas and spatial analysis tools
https://www.oracle.com/technetwork/database-options/spatialandgraph/overview/spatialandgraph-1707409.html
Oracle Machine Learning provides a notebook style application designed for advanced SQL users and provides interactive data analysis that lets you develop, document, share, and automate reports based on sophisticated analytics and data models. Oracle Data Mining (ODM), a component of the Oracle Advanced Analytics Database Option, provides powerful data mining algorithms that enable data analysts to discover insights, make predictions and leverage their Oracle data and investment.
https://www.oracle.com/database/technologies/datawarehouse-bigdata/oml-notebooks.html